"A monstrosity full of glue." This is how the guys from iFixit rated the Microsoft Surface Laptop, a laptop with a 0 out of 10 in its famous reparability index.
This equipment is the perfect example of that tendency of the manufacturers to put barriers to that we put hand in the products. Some are so difficult to repair that they are practically high-end disposable products : if the Surface Laptop breaks down, Microsoft will probably replace it with a working one and recycle what you can from the one you gave them defective.
Making products increasingly difficult to repair
For years now we have seen this trend that is turning desktop computers, laptops, tablets and smartphones (among others) into products almost impossible to expand or repair.
Apple was among the first to be noted for the lack of "reparability" of its products: replacing memory or storage units in their laptops and desks became a number of cases a challenge, although the iFixit itself – among many others – encouraged users to perform these operations with the help of specialized tools and videos and photo tutorials explaining the process step by step.
Many others in the industry have followed this trend – we are not talking about the "cucas" techniques of the printer manufacturers – and have made that in case of a serious problem with our devices we attend a repair process in which these equipment could become like the Surface Laptop) in disposable products.
Business does not end when you buy the product
This policy of technological companies has a strong economic motivation: only official or authorized services can guarantee the correct repair of problems, although for "minor" damages such as the famous broken smartphone screens in the end many technical services are able to solve the problem. Even users have access to spare parts, tools and information resources to be able to replace the screens of their phones themselves if they have some patience and skill.
For many, however, such processes are too complex or require time and dedication from those who do not. That's where the technical services of the big ones feed on those barriers of access to "do it yourself" to charge the user prices of all kinds for those repair operations.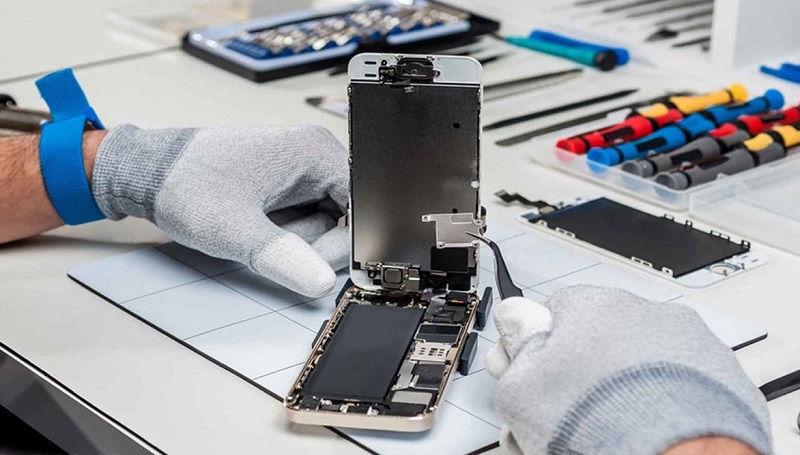 Sometimes, as we say, these technical services end up simply offering you a new product that replaces the old one because repair as such is practically as expensive (or more) as a new device. We see it continuously in other segments of electronics in which the products are so cheap that practically comes out more to account buying a new one than taking the trouble to repair the old one.
"Do I really have to waste time in going to a technical service, wait for days to get repaired and pay a certain amount of money to recover a device that who knows how it will work thereafter? I better buy a new one and shoot the trash the one that has ruined me", we think practically all those that we face those repairs of appliances and technological devices.
You may also like to read: LiFi has achieved a new milestone: 42.8 Gbps through infrared, and is already 100 times faster than WiFi
When repair ends up being a nuisance
This frequent reflection makes repairing a product become uncomfortable and in many cases, even impractical. The prices of the technology do not stop going down and sometimes that a product spoils us can give us even a "good" excuse to buy that mobile or that laptop that we had the eye.
In cheap products precisely these repair tasks were even less appealing to users, especially when the warranty of those products has expired. The frenetic consumer economy in which we are immersed – especially now that shopping is more comfortable and easier than ever – has made it difficult to resist buying something new instead of repairing something used.
That trend nevertheless seems to be moving more and more to the segment of medium and high-end electronic products in which precisely the difficulty that manufacturers impose to repair them tempts us to leave aside that possibility of repair. Except that as we say the product is under warranty , going to a new product is a very suggestive possibility.
Here too are those stories of terror that are heard of technical services – there is everything, but as is often the case, it is the bad that spreads most easily in the digital word of mouth – and the fact that manufacturers want to control all that business that exists around access to your products. The controversy with John Deere tractors is another example of how the products we buy are less ours than we think.
That is one of the great condemnations of an era in which looks like it is easier to buy something new than repair it . The age of informatics and disposable technology has another great side effect: that of those millions of tons of electronic products whose recycling is really complex and that end up becoming another of the great threats to the environment.
All this despite efforts such as the FairPhone, those "socially conscious" mobiles that are precisely designed so that we can easily repair them and make use of "conflict-free" components and materials. This project shows that there are exceptions to the rule, but that is precisely the sad thing.