Local SEO, like that offered by a SEO Services Dublin company like https://www.rycomarketing.ie/seo-services is the process of optimising a website to rank higher in the local search results. The main goal of local SEO is to help a business to be found easily by people who are searching for products or services in the local area. This is particularly important for businesses that have a physical location such as a shop or an office, or that operate in a specific geographic location.
Some of the key components of local SEO include:
Google My Business – this is free to create and allows you to create a profile that appears in the local search results. It includes information about your business such as its physical location, address, contact details, opening hours and reviews that can be left by customers and clients.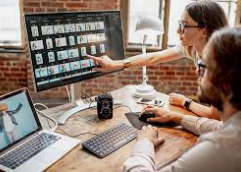 Local keywords – these keywords include a location-specific term such as the name of a town, city or region. Using these local keywords in the meta description and website content can also help to improve the website's rankings in the local search results. An example of this would be a hairdresser using the keyword of "Hairdresser in Birmingham".
Local link building – this is where links from other sites in the same geographical location as the business are searched for. This can help to improve the authority of the website and its ranking in the local search results. It is important that links are sought from high quality sites.