The extreme overclocking is as it is, practically no use and a lot of showmanship in the figures. It seems that Intel and associates intend to have a lot of fun with this in the early days of their Core X family of processors.
A few days ago we showed you the work of Elmor with the lower Intel Core i9 of the new series, getting to put the speed of the processor to 5.7 GHz. To achieve this, cooling based on liquid nitrogen was used, which led to the breaking of some benchmark records. Now the protagonist returns to be Intel, with other ingredients.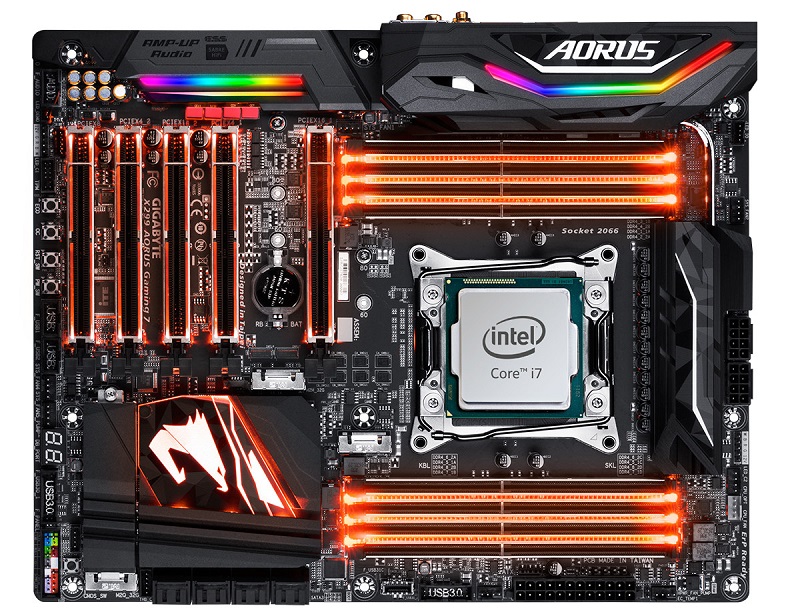 It's strange, these processors are still not sold, but it stands to reason that companies like Gigabyte have access to them before anyone else, since they will try and mount them in configurations that will sell us in a few days. The processor chosen this time is a Core i7-7740K.
If we look at the table that we share the other day, in which comes the whole new family Kaby Lake X, this is the most powerful of the two options. "Naturally" runs at 4.3 GHz, but thanks to the TurboBoost 2.0 mode can be placed at 4.5 GHz. As the engineers of Gigabyte, along with TeamAU overclockers, have put it to run at 7.5 GHz.
You may also like to read: Intel Core i7-7700K, Core i7 Kaby Lake most powerful resort to 4K as hook for everyone
The way to get it on this occasion is by cooling with liquid helium – also liquid nitrogen that take it to 220°C, in addition, only started to operate two of the four cores available to this processor.
The processor tests are performed on the motherboard of the Gigabyte X299-SOC Champion with a Corsair AX 1500i power supply, 16GB of DDR4-4333 MHz RAM with Corsair Vengeance. Of the graphic part they are responsible for two Gigabyte Aorus GeForce GTX 1080 Ti.
Is there performance testing? As for 3DMark there are several records : it marks 356678 points in 3D Mark 03, 71928 points in 3DMark06 with a GTX 1080 Ti and 71176 points in 3DMark06 with two GTX 1080 Ti cards.
These kinds of experiences are curious, they help us understand limits, understand how far the performance of domestic solutions can be carried out with highly controlled methods of refrigeration, which we will hardly replicate at home. It would be nice to get your hands on the Core i9 18-core.